This Luxury Motorhome will draw attention even at the most upscale RV Resort
RVers in the market for something different in a motorhome... one sure to draw attention at the most upscale RV resort... may want to consider the Marchi eleMMent Palazzo it's very large, very luxurious, and very expensive.
The Palazzo is another in a long line of ultra-expensive luxury motorhomes, but this one separates itself from land yachts because it offers some truly unique features, starting with the futuristic look.
the Palazzo's main windshield is circular and is cleaned by one gigantic, single wiper, and it sits atop a wraparound bubble of glass. Somewhere in the folds of metal and composite below the cabin is a gaping intake and squinty headlamps built into a pointed front clip. It's an aesthetic that harkens back to the designs of Luigi Colani, who's crafted some near-identical semi trucks in the past.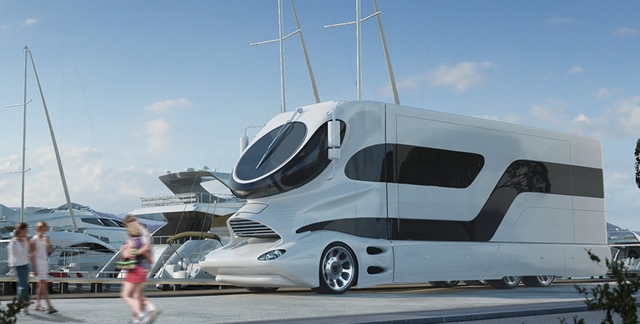 The interior of the motorhome is appointed in a way you might expect: it's filled with wood floors, marble and chrome bathroom fixtures, leather upholstery, and plenty of huge sunroofs and windows.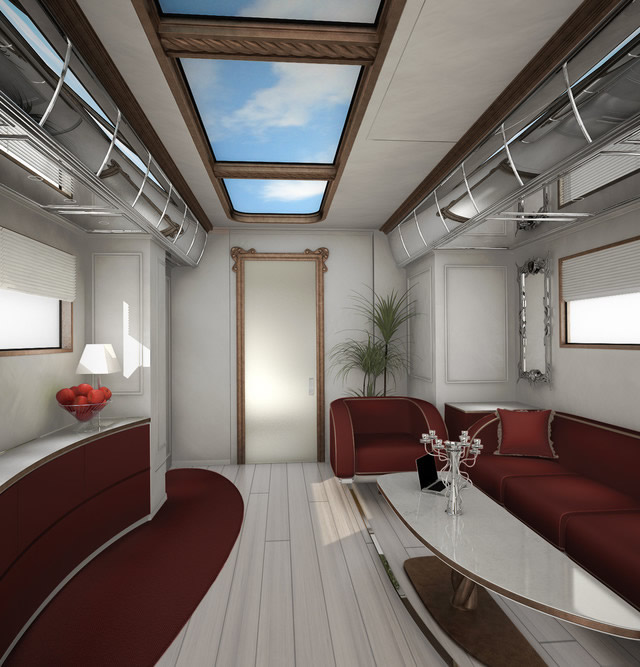 The lounge has convertible seating that transforms itself from low-height couch to raised, bar-like seating, and features a full wet bar. The master suite includes an opulent full-size bed, a dressing area, and a mirrored ceiling. The master bathroom has a full-size waterfall shower and powder-room mirror. As one would expect, the interior features a liberal amount of technology, including HDTVs and WiFi internet access.
Back outside, the driver's side panel extends to increase floor space in the lounge by about 80 percent, and if that's not enough, the roof above the master suite extends to create a sky bridge with a covered lounge area. Not crazy enough? The Palazzo has a special feature that covers certain body panels in glow-in-the-dark material, for living out your TRON: Legacy fantasies.
When it's time to actually move the motorhome, the Palazzo will equipped with a 510-hp engine that will propel it up to a top speed of 93 mph. According to the manufacturer, the coach is reportedly capable of about 13 mpg, which may make it both the fastest and most efficient mobile living room presently on the market.
The Palazzo is still a concept, and as such, it's up to you how mild or wild the final coach will be. As is always the case, that depends on how much cash you're willing to throw down but expect to pay somewhere around $3.2 million.
You may also want to read: Extreme RV Built From Garbage Truck?