Giving up a foundation house for one with wheels, a motorhome, travel trailer or fifth wheel, generally means giving up easy reliable internet access. But RVers have several ways to get connected. Wi-Fi, cellular phones and two-way satellite even make it easy.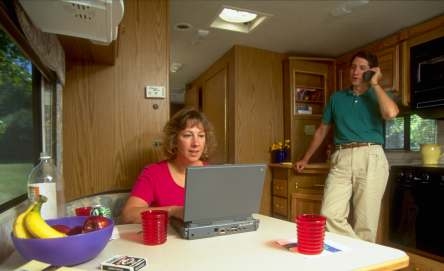 RVers Guide to Internet Access On The Road
New ebook explains the many options — dial up, cell phones, WiFi, Pocketmail, satellite, etc.
LEARN MORE

For most of us it's a matter of getting internet access wherever and however we can. Fortunately, RVers are are a resourceful group and have found creative ways to get access.

Many RV parks have phone lines at each site but usually you have to make arrangements directly with the phone company to have it turned on and the connection fees make it hard to justify unless you plan to stay at least a month.

It's rare to find a park with hot phone lines at each site but it's nice when you do. A hot phone allows you to drive in to your site and instantly have phone service. The service is almost always restricted to local and toll-fee calls so any long distance call you want to make will require a calling card.

These hot phones are great for internet access if there is a local dial-up number for your ISP. If your ISP has an 800 number, for times when there is no local number, then you're all set.

But usually, getting internet access means borrowing a phone line. For most of us a daily trip to the 'modem hookup' is routine.



Now days most commercial RV parks (but not too many government campgrounds) have a modem hookup. Usually it's in the office but sometimes you'll find it in the activity room or elsewhere. These lines are also restricted to local of 800 number service and the management will often ask that you limit your time.

It's generally good manners to download your mail, disconnect and leave to read and answered your mail off-line back at your RV. Unless you have important email you can wait until the next day to return to the modem station. This time your will upload your outgoing mail and as well as download new mail.

Other sources for hookups are family and friends you may be visiting, internet cafes, libraries and truck stops.

Since you have to take your computer to these places a laptop is almost a necessity.

Cell Phone

Many RVers have been using their cell phones for internet access for some time now but recently it's gotten easier and much more affordable. Most cell providers have some sort of internet access but Sprint PCS seems to have the advantage right now in both digital coverage area and cost. Sprint's access speed is faster than that of other suppliers.
Fran and I use Verizon Wireless and connect to their Quick 2 Net digital network at 14.4kbps. When available we use Verizon's faster National Access which is closer to normal dial-up speed. Use of either network is only charged against our regular calling minutes. Since we have 3,000 night and weekend minutes we can get our email and do our online banking virtually for free as long as we do it during off-peak times.
Recently Sprint began offering unlimited access to it's high speed digital network for $10 additional to whatever monthly plan you have. Verizon has a fast network similar to Sprint but charges considerably more to use it so we opted not to.
As I understand it Sprint's service agreement only allows the use of the features that are part of the phone. You cannot attach any device to the phone which of course includes a computer.
There is controversy though from RVers who say they are in fact using their computers attached to the phone to get internet access. Furthermore, they claim that 'someone' at Sprint said it was okay.
My guess is that if you 'fly under the radar' you can get away with it. But then, other RVers say they or 'a friend' have been hit with huge bills from Sprint because they were using the data network with a computer.
I'll be sticking with Verizon for the time being even if it is slow. But anytime Sprint or another provider offers 'real' internet access a tan affordable price I'll switch.
Connection kits for many cell phones are available at cellular phone stores but you should know if one is available for the the phone you plan to buy before you buy the kit or the phone. Most any PC laptop will work with the connection kits available but you may want to make sure.
If you use a Macintosh your options are more limited but if you are running OS X you can still use it... we do. For Mac solutions see SmithMicro.com.
All this bodes well for RVers, at least those who stay in areas where the digital networks are available. Wi-Fi
Wi-Fi
If you haven't heard about Wi-Fi you soon will. Wi-Fi stands for Wireless Fidelity. It's also know as 802.11and we Mac users call it AirPort. Whatever you call it Wi-Fi is basically a two-way radio with about a 300 ft. range and software that sends and receives standard internet data.
Right now Wi-Fi usually takes the form of a $50 - $100 PC card that plugs into your PC's PCMCIA slot. But Intel has been in the news lately announcing it will include the technology in it's new laptops. It has been built into Macintosh laptops for several years now by way of an optional internal card.
Places where internet access is provided by Wi-Fi are often called hotspots and hotspots are being set up in tens of thousands of new places this year. Restaurants, coffee shops, convenience stores, hotels, motels, airports, even truck stops. Just about anyplace where people congregate is likely to have a hotspot in the next few years.
There are several pay-for-service hotspot providers and the businesses who host them either find it easier than operating a hotspot themselves or consider it a profit center since the host usually gets a percentage of the income.
Starbucks Coffee Shops made headlines when it announced that hotspot provider T-Mobile would have hotspots in nearly all of it's shops by the end of the year. Most of them are already up and running. Even McDonalds restaurants announced it has a market test ongoing in New York right now. Get an hour of free access when you buy a Value Meal.
Most of these place charge for access and rates vary a lot depending on the provider. They have Pay-As-You-Go as well as
subscription plans. Visit: http://www.t-mobile.com/hotspot/ and http://www.wayport.com/ to get an idea of where to look for hotspots and what they cost. Some provides, like Boingo, ( http://www.boingo.com ) require special software. But I've not used it so I cannot comment.
As I said, the fees of each pay-for-service hotspot provider vary widely but experts think fees will even out in the next year or two while becoming more affordable. Many providers are working now to share each other's networks so that subscribers can use hotspots without worrying about who it belongs to.
Besides pay-for-service you can also find free access. Free hotspots are often offered by public agencies... libraries, schools, parks, etc. In many areas, users themselves are working together to provide free hotspots to the community. Free hotspots are also offered by businesses that feel the service sets them apart from their competition and attracts customers.
Some hotspots are at residences. Sometimes they are left open intentionally to share access with neighbors but usually it's because homeowners simply are not unaware of security issues.
It's the free hotspots that we look for. We find them with 'sniffer' software while driving around town. I drive and Fran watches the computer. When the computer finds a hotspot we find a parking place nearby. Sometimes the networks are not connected to the internet, but we usually find an open access point we can use.
Since we only use the open network for internet access and do not try to 'hack' their system we don't feel we are doing anything wrong.
Of special interest to RVers is that many RV parks are looking at Wi-Fi as a less expensive alternative to hot phones since many of us just want the phone line for internet access anyway. As with other hotspots some parks will charge and others will offer wi-fi for free.
Wireless is good but Wi-Fi is also fast. About the same speed as DSL or broadband cable. The combination is making Wi-Fi especially popular with mobile computer users.
There is more than one Wi-Fi standard. Two standards are fighting for dominance... 'a' and 'g'. The 'g' standard has the favor of manufactures right now because while it offers better security and faster speed it is backward compatible with the 'b' standard. Apple has already moved to the 'g' standard and other manufactures are moving that way.
But don't let the different standards bother you. Most hotspots will be 802.11b for the next year at least, maybe more, and even when they do move to 802.11g you will still be able to use your 'b' hardware.
There are dual mode and even tri mode PC cards available but they are more expensive than the straight 'b' cards.
The best place to find more info about Wi-Fi is on the web. Go to google.com and do a search on 'wi-fi hotspots' for a good start. You'll find lots of stuff and it will lead you to more.
Still have questions? email us.

RVers Guide to Internet Access On The Road
New ebook explains the many options — dial up, cell phones, WiFi, Pocketmail, satellite, etc.
LEARN MORE
Want to read a more complete report on all the ways RVers use to get internet access while on the road?
I've written an ebook that covers in greater detail all the topics in this report and more, including the latest internet satellite developments. Follow the 'Learn More' link in the ad to go to the publisher's page.