Basic Guide to RV Internet Access for RVers on the Road

by Steven Fletcher
Giving up a foundation house for one with wheels, a motorhome, travel trailer or fifth wheel, generally means giving up easy reliable internet access. For most of us it is a matter of getting internet access wherever and however we can. Fortunately, RVers are are a resourceful group and have found creative ways to get access. Wi-Fi, Cellular data devices and two-way satellite make it easy.
Cellular Internet Access
All cellular providers offer some sort of internet access called Data Plans. Plans, prices and coverage very with each provider... sometimes considerably... which can make choosing a provider and plan difficult.
While many RVers are still using a tethered phone to access the internet, it's getting more difficult for new data plan users to do so. The Cellular providers are slowly discontinuing cellphone models that have the capability in order to switch customers over to data plans that require the use of a cellular WiFi device or USB adaptor. Owners of simple cell phones, rather than smartphones, are unable to access the internet either way.
Tethering kits for some cell phones may still be available at cellular phone stores but you should know if one is available for the phone you plan to buy before you buy the kit or the phone. Most any PC laptop will work with the tethering kits available but you may want to make sure.
As stated earlier, these days the trend is toward a sperate device, either a WiFi device or USB adapter with the accompanying data plan. While this option is more expensive than than the previous described tethered method there is an advantage to the data plans in that they allow you to be connected anytime so no waiting for evenings or weekends for free minutes. The WiFi devices will let multiple computers to connect to the internet at the same time. (See WiFi Internet Access below for more on this) The downside is the initial cost for the device and the monthly plan fee which is in addition to your voice plan.
WiFi Internet Access
WiFi stands for Wireless Fidelity. It's also know as 802.11and we Macintosh users call it AirPort. Whatever you call it Wi-Fi is basically a two-way radio with about a 300 foot range and software that sends and receives standard internet data.
For RVers with older laptop the Wi-Fi radio usually takes the form of a $50 - $100 PC card that plugs into the PCMCIA slot. But for the last several years manufacturers have built WiFi technology into laptops.
Places where internet access is provided by Wi-Fi are generally called hotspots and hotspots are being set up in tens of thousands of new places every year. Restaurants, coffee shops, convenience stores, hotels, motels, airports, even truck stops. Just about anyplace where people congregate is likely to have a hotspot in the next few years. Of special interest to RVers is that many RV parks are providing Wi-Fi.
A WiFi hotspot is what makes a wireless connection to the internet possible. But the hotspot itself must have an internet service provider connection. This connection is usually made using DSL or cable but in remote areas the connection could be satellite. In rare cases internet service could be cellular or even another WiFi link.
With a cellular WiFi device and Data Plan, RVers will have their own personal hotspot as long as a cell signal is available.
Some hotspots are pay-for-service and the fees charged by these hotspot vary widely but the trend is toward free access. Be sure to asked the RV park if the WiFi is free or paid before you make your reservation if this is important to you.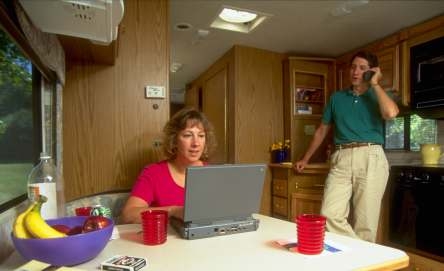 Free hotspots are often offered by public agencies... libraries, schools, parks, etc. In many areas, users themselves are working together to provide free hotspots to the community. Free hotspots are also offered by businesses that feel the service sets them apart from their competition and attracts customers.
As with other hotspots, some RV parks and campgrounds will charge for WiFi service and others will offer it free.
There is more than one Wi-Fi standard... the older 'b' and 'g' and the current standard is "n". The 'n' standard offers better security and faster speed but it is backward compatible with the 'b' and 'g' standards.
Don't let the different standards bother you too much though. Most hotspots will accept all 802.11 standards for the foreseeable future and any "n" gear you have will work with any 'b' or 'g' hotspot. Fact is, you're not likely to ever notice the difference.
Satellite Internet Access
There are two types of satellite internet systems of interest to RVers, rooftop auto-pointed and tripod mounted manually pointed.
The auto-pointed systems are available through re-sellers who install the system and provide value-added service using one of the satellite service providers. Cost is between $4,500 and $7,500 for the system and installation. Service is around $90 per month.
The manually pointed tripod systems are sold by installer agents of the satellite service providers. See: http://www.mobileinternetsatellite.com The installers them combine the satellite equipment used by the provided of choice and all the necessary equipment to make it a 'mobile' system. These mobile kits very from installer to installer so be sure you get a list of all the parts they include and compare. Just as important is the training the installer provides. Again it varies from installer to installer. Make sure you'll get hands-on training and at least some telephone support. Cost for the equipment and training can run$1,500. Monthly service is $50 to $60 depending on the provider.
There really isn't a whole lot to distinguish the satellite service providers as far as the kind of service and speed of the connection. The differences are small and subjective.
The reality is, with some many RV parks and campgrounds offering WiFi and many RVers opting for cellular data devices and plans, the use of satellite internet among RVers is dropping and is now only of interest to die-hard boondockers.
Still have questions? email me.
Want to read internet options and equipment of interest to RVers? Check out RVInternetAccess.com