Flipping Trailer Axles

Flipping RV travel trailer axles means mounting the axle or axles under the springs as opposed to over the springs. This raises the trailer about 7 inches.
It's often done for more ground clearance. But also, these days, pickup trucks are sometimes higher than they used to be years ago so flipping the axle is also done when someone with an older trailer gets a new truck. Thus allowing the trailer to tow level again.
The process basically involves unbolting one end of each spring, unbolting the axle and removing the axle from the springs. The springs are reinstalled.
Two new axle perches are welded to the top of the axle counter to the old perches. The axle is then bolted under the spring.
The above is done for each axle.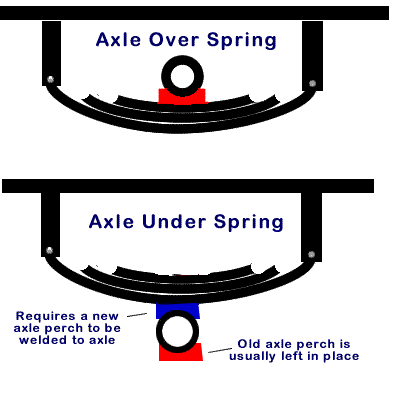 Get tips on the RV lifestyle, RV equipment, campgrounds, sights and attractions, safety and just about anything else useful RVers.

Stay Up to Date - Follow Us
on Facebook

We let our Facebook followers know when we post a new article or news story to our websites.


Fans of RVbasics.com on Facebook

Join Our FREE RVBasics Email Discussion Group

Get current information about the RVing lifestyle, and the RV industry from your fellow RVers. You can also post your own questions. We never share your email address with anyone.