Determining RV Tire Age by Date Code - How Old are the Tires on Your RV

How old are the tires on your recreational vehicle? The date of manufacture is indicated by the last group of digits in the DOT manufacture code on the sidewall of the tire. The number is often stamped in a recessed rectangle. The DOT code tells who manufactured the tire, where it was made and when. The last group of digits in the code is the date code that tells when the tire was made.
Before 2000, the date code had three digits. Since 2000, it has had four. The first two digits are the week of the year (01 = the first week of January). The third digit (for tires made before 2000) is the year (1 = 1991). For most tires made after 2000, the third and fourth digits are the year (04 = 2004).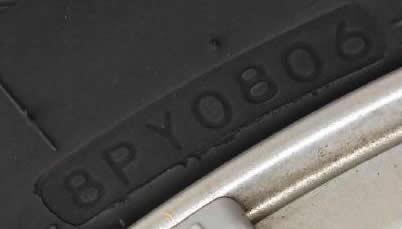 In the photo at right, the date code is 8PY806. The 8PY is a manufacturing shift code, and the date the tire was actually made was 0806, which is the 8th week (08)in the year 2006 (06).
The date of manufacture is essential information for RV owners and RV tire buyers because tires deteriorate even if they are not used.
European automobile manufacturers recommend replacing ANY tire that is more than six (6) years old, including the spare tire.
Watch an ABC television video that explains what can happen if you drive on old tires.
Note from Steven: Domestic recreational vehicle manufacturers make no tire age recommendations but from my own experience I believe replacing tires older than six years a a good idea regardless of tread wear.
You may also want to read: RV Tire Care - the Basics
Get tips on the RV lifestyle, RV equipment, campgrounds, sights and attractions, safety and just about anything else useful RVers.

Stay Up to Date - Follow Us
on Facebook

We let our Facebook followers know when we post a new article or news story to our websites.


Fans of RVbasics.com on Facebook

Join Our FREE RVBasics Email Discussion Group

Get current information about the RVing lifestyle, and the RV industry from your fellow RVers. You can also post your own questions. We never share your email address with anyone.