Easy RV Closet Rod Upgrade
I never liked the closet rod in our old fifth wheel. You know, the metal angle iron with the triangular slots for the clothes hangers. It might work for some RVers... someone thought it was a good idea... but if you want to hang more that few item in the closet, those slots make it nearly impossible. I lived with it for many years before I finally hung a broomstick from the angle iron as a makeshift closet rod.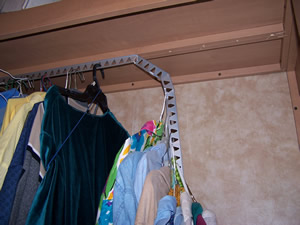 When the closet rod broke on our first trip in our new fifth wheel I decided to replace it with a regular closet rod and do it right this time.
The closet rod and supports were purchased from a local home improvement store. The wood I used to bolster the thin paneling is from a 18"x18" folding TV table I purchased at Wal-Mart. The cost of the table was about what it would have cost to buy shelving and it was already finished and was a close match for the RV's cabinets.
I used half the table top for a shelf project and the leftover half I cut in half again to make the two ends for the closet rod. It's a simple project... about an hour... that makes hanging clothes a lot easier.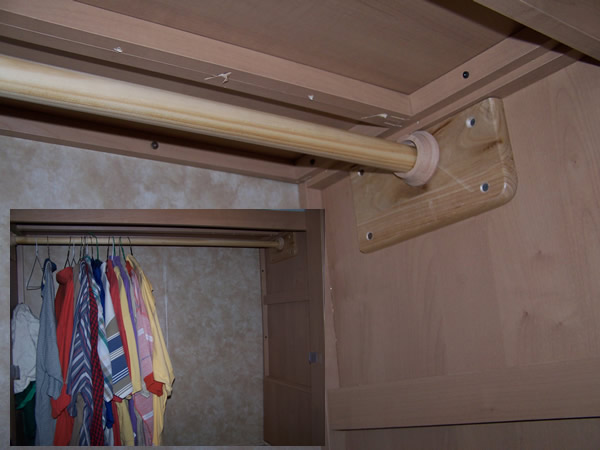 Get tips on the RV lifestyle, RV equipment, campgrounds, sights and attractions, safety and just about anything else useful RVers.

Stay Up to Date - Follow Us
on Facebook

We let our Facebook followers know when we post a new article or news story to our websites.


Fans of RVbasics.com on Facebook

Join Our FREE RVBasics Email Discussion Group

Get current information about the RVing lifestyle, and the RV industry from your fellow RVers. You can also post your own questions. We never share your email address with anyone.