Upgrading My RV Power Cable Hatch
By: Steven Fletcher
When we first got out new fifth wheel the 30 amp power cord came out of the sidewall through a small round utility hatch. I worried the plug would jiggle back into the storage space behind and I would not be able to reach through the small hole to retrieve it. That didn't happen but what did happen was just as bad.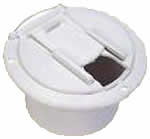 When storing the cord the day before it somehow got looped over itself so the next day when I tried to hook up again the cord would only come out about six feet. I pushed, pulled and jiggled but couldn't get the loop undone.
To get the cord untangled I had to remove the screws and pull the plastic port away from the wall. The actual hole was just large enough that I could reach in and untangle the cord.
After getting the cord loose and pulling it out I looked through the hole at the space behind the wall. It was actually quite large. And the wall area was large enough that I could install a larger utility hatch in place of that little round port.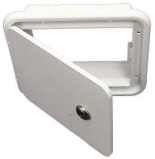 Now cutting a large hole in the side of the RV was just a little intimidating... if I screwed it up it would be pretty ugly... but after measuring several times I was confident I could do it.
I traced the outside of the new hatch to make the cut and taped the wall around the outside of the line to protect it from being scratched by the jig saw.
Using a fine-tooth blade in the jigsaw I used the existing hole to start the cut and cut just on the outside of the line. In less that a minute I had the new hole cut. No problem and the new hatch fit perfectly. I let out a big sigh of relief.
Before I installed the new hatch I lined the opening with some duct tape to hopefully keep any water from causing de-lamination if my new hatch leaked.
Some RV putty tape and self-tapping screws with square-drive heads were all I needed to finish the installation.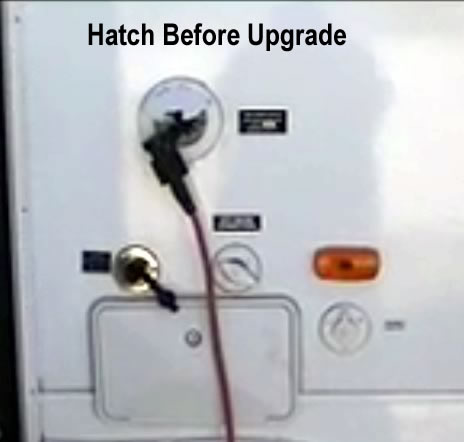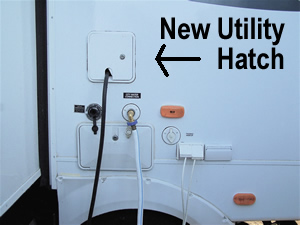 The new, larger utility hatch sure makes it easy to store and retrieve the power cord and I can even store my 30 amp extension cord in the big storage space that was unusable before.