Using a 50 to 30 Amp RV Power Cord Adapter

Have you ever been in an RV park site where the 30-amp outlet was broken or the circuit breaker was weak and kept tripping? If it happens again and the RV power pedestal has a 50-amp outlet you can use it instead of the 30-amp outlet. All you need is the right adapter.
There are different types of adapters but the most common power adapter is often called a dog bone because of how it looks. Below is an explanation of why this works.
An RV power pedestal 30 amp outlet has a single 120 leg and breaker rated at 30 amps at 120 volts along with a neutral leg and ground.
An RV power pedestal 50 amp outlet has two 120 volt legs that supply current to the RV plus a neutral and ground. Each power leg can supply 120 volts to neutral or the two can supply 240 volts from Leg 1 to Leg 2. The outlet is protected by a double breaker rated at 50 amps on each leg. What that means is there are TWO 50 amp breakers, usually physically connected together, supplying the RV with current. (If you flip the breaker off, both are flipped at the same time)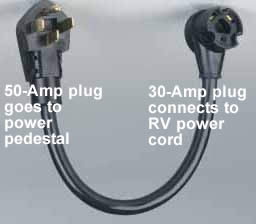 In an RV wired for 30 amp service all outlets and appliances are connected to the single 30 amp leg. In an RV wired for 50 amp service some outlets and appliances are connected to one leg while other outlets and appliances are connected to the other leg. Manufacturers try to anticipate the power requirements and balance which outlets and appliances are connected to which leg. For example, all the kitchen outlets and appliances might be connected to leg one and the rest would be connected to leg two. RVs with two air conditioners would have one connected to each 120 volt leg.
When you plug your dog bone adapter into the 50 amp outlet the adapter taps only one of the two 110 volt legs and transfers the power to your power cord as though it was plugged into a 30-amp outlet. Yes you technically have up to 50 amps available at the adapter but the 30 amp circuit breakers in your RV's power panel will only allow you to draw 30 amps. As far as your RV is concerned nothing is different.
You may also want to read: RV Electrical System Basics
Get tips on the RV lifestyle, RV equipment, campgrounds, sights and attractions, safety and just about anything else useful RVers.

Stay Up to Date - Follow Us
on Facebook

We let our Facebook followers know when we post a new article or news story to our websites.


Fans of RVbasics.com on Facebook

Join Our FREE RVBasics Email Discussion Group

Get current information about the RVing lifestyle, and the RV industry from your fellow RVers. You can also post your own questions. We never share your email address with anyone.