"Pet E.R. Guide" Emergency Pet Care Resource for RVers Who Take Pets on the Road
VENTURA, Calif.----Trailer Life Books, a leading publisher of books, magazines and guides that serve North America's recreation vehicle (RV) enthusiasts, has introduced the "Pet E.R. Guide," a book designed to provide contact information for 24-hour and after-hour veterinary facilities throughout the United States.
The 200-page guide provides information to help travelers plan ahead and locate care for their pets in the event of an injury, illness or emergency. It also includes a "pet travel checklist" to identify the necessities to keep pets happy, safe and comfortable on their next journey.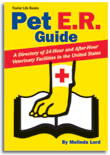 "Pets are an important part of the family. Being prepared and well informed before a pet emergency occurs can help traveling pet owners confidently obtain the medical care their pet needs," said Cindy Halley, associate publisher, Trailer Life Directory & Books. "Whether at home or on the road, the "Pet E.R. Guide" provides pet owners the means to quickly locate a facility that is open and nearby. This is critical since every second counts in an emergency."
The "Pet E.R. Guide" provides the following pet care information:
State-by-state listings of 24-hour and after-hour veterinary facilities in the United States
Name, address, city, county and state of facilities
Local telephone and fax numbers within the listings
Web site addresses and hours of operation
AASPCA list of 10 of the most common poisonous and non-toxic plants
Guidance on emergency and evacuation planning for pets
Questions to ask when making initial contact with a veterinary facility
Pet record pages to help document critical information about pets
More than 100 delightful pet photos
Learn more or order "Pet E.R. Guide" Also lean more about other great books about RVing for up to 50% off!