W16D Workhorse Chassis & Navistar MaxxForce Engine Boost Motor Home Fuel Efficiency 70 Percent
UNION CITY, Ind. (Aug. 28, 2008) — The first significant answer to the market need for better fuel economy with Class A (bus style) motor homes will be launched at the annual Pennsylvania RV and Camping Show in Hershey, Pa., Sept. 10 to 14 (public days) at the HERSHEYPARK® Entertainment Complex – GIANT CenterSM.
The show will introduce the all-new Avanti (which means "forward" in Italian) from Damon Motor Coach. The first motor home to be built on the W16D front-engine diesel platform from Workhorse Custom Chassis. The W16D is a 16,000 lb. GVWR diesel powered platform that is both lower and narrower than traditional class A motor home chassis, enabling lower, sleeker motor home body designs.
The initial Avanti model is 31 ½ feet long and designed to be a more fuel efficient and easier-to-drive Class A motor home. Combining a sleek, low-to-the-ground, aerodynamic design with the re-engineered Workhorse chassis, the Avanti is expected to achieve up to 70 percent better fuel economy than comparable Class A motor homes, based on internal test results.
In addition, Vice President of Avanti Sales Matt Thompson describes the Avanti's drivability as "awesome." The Avanti's coach is nearly 12 inches closer to the ground than any other Class A motor home and is six inches narrower. The low center of gravity, combined with the excellent ride and handling of the Workhorse chassis, gives it "an automotive feel," said Thompson. "I think people will find it fun to drive. Certainly not like any other Class A."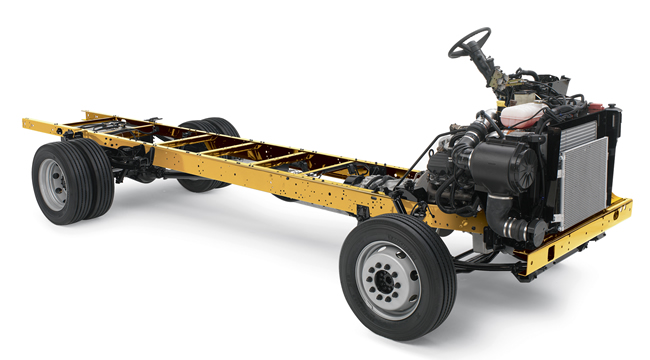 The RV-enhanced W16D chassis marks the latest in a series of chassis firsts from Workhorse that have multiplied motor home choices for consumers over the past decade. It will be on display at Workhorse Booth G by the GIANT Center along with the 2009 Chevy Workhorse Class C platform with best-in-class towing capacity.
The W16D also marks the first appearance of the MaxxForce™ 5 V6 diesel engine from Navistar International Corporation (NYSE: NAV) in a motor home. The MaxxForce 5 is mated to an Allison 1000 Series transmission and produces 200 horsepower and 440 ft.-lbs. of torque. Other key W16D features that enhance the drivability and manageability of the motor home include high-performance Brembo 4-wheel disc brakes, 50-degree wheel cut and electronic instrument cluster with full instrumentation and information center.
Leading edge technology makes the MaxxForce 5 a "clean diesel" engine that improves both emission levels and fuel efficiency. That and the relatively light weight of the Workhorse chassis both contribute to the Avanti's fuel economy and payload capacity.
That capacity means the Avant1 can put diesel class storage and amenities into a smaller motor home, enabling owners of larger motor homes to conveniently downsize. Thompson calls the storage space on the Avanti "phenomenal." "Our 31 1/2-foot model has as much storage than a comparable 37-foot coach," he said. "We worked hard to utilize every square inch."
A walk-around queen bed, split bath layout, large screen TV and curvaceous nautical interior styling are some of the diesel-class luxury and amenities packed in the coach, making it "a great choice for both a first-time buyer or an experienced RVer looking to drive something a little 'greener' but with the storage and amenities they're used to," said Thompson. "They still have the interior space advantages of a Class A, but in the size of a Class C (motor home with a separate van cab compartment) and with better fuel economy than many Class Cs."

Workhorse plans to develop more fuel-efficient chassis technology in the near future. "Our work with Damon on this project is typical of how we respond to manufacturer and market needs," said Tony Monda, vice president of marketing and product planning for Workhorse. "We see ourselves as the customer's advocate in the RV industry, and that means being proactive in developing new answers for new challenges."
Those attending the show on Wednesday, Sept. 14, are encouraged to stop by either the Workhorse or Damon booths to pick up a wristband for admission to a special tailgate launch party for the Avanti from 1 to 2 p.m. at the Damon booth. Hot dogs and refreshments will be served as well as some exciting giveaways, while supplies last.