Thor Motor Coach Daybreak Motorhome Has New Exterior Kitchen Design
Thor Motor Coach introduced a new 34SS Daybreak Motorhome floor plan with an innovative exterior kitchen at the 45 annual Timonium RV show in Maryland.
"We've seen an explosion of outside kitchens on towable products, but nothing from motorhome manufacturers. This new upscale exterior kitchen design fits our motorhome demographic and is sure to be a home run", commented Mike Peterson, Product Manager for the Daybreak.
The Daybreak 34SS floor plan launched with an optional fully functional exterior kitchen on the camp-side of the coach. It features a 15,000 BTU easy clean stainless steel LP grill, 19" widescreen HD TV, and a 4.6 cubic foot mini fridge. Another industry first for a motorhome is the integrated single bowl sink. This sink drains just like the interior sinks, into the grey water holding tank. This is a very desirable upgrade compared to many trailers that simply drain onto the ground.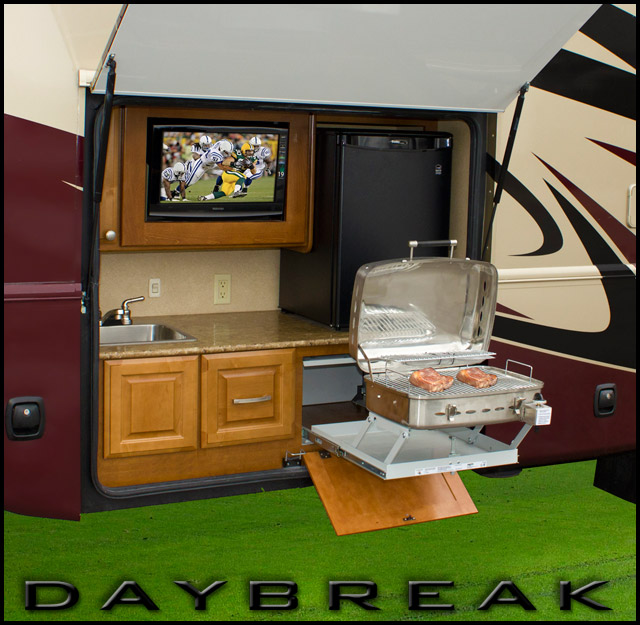 Bob Wilson, Sales manager at Leo's Vacation Center, was the first person to see the new kitchen when it arrived to the Timonium show. "I was blown away with the new kitchen design. Many of the trailers we carry have a kitchen outside, but to have it in a motorhome really blew me away. Our customers are the big winners on this one."
We understand that RV's are not "one size fits all", so when massive exterior storage is desired over the outside kitchen, the Daybreak 34SS comes standard with an oversized camp-side exterior compartment with the VersaTrac© modular storage system. The customizable storage system has optional attachments such as hooks, bins, loop, etcetera that makes RV storage a snap.
You can find out more about Thor Motor Coach on http://ThorMotorCoach.com or the Daybreak Motorhome on http://DaybreakRV.com.