Renegade Enters RV Market with New Ikon Motorcoach
Bristol, IN – 01/22/10 - Renegade, the race industry leader in luxury motorcoaches, has expanded its motorcoach product line to include a new model targeting the RV market. The IKON by Renegade exemplifies luxury coach living and it's built with legendary Renegade quality and fit and finish.
The new IKON has unique, quality crafted baggage and compartment doors for easier operation and larger carrying capacity. Multiple air conditioning units, precise power leveling jacks, standard under- coating and other top features as standard equipment. IKON construction is the biggest advantage. The IKON's aerodynamic exterior design means better fuel economy and the interior designs are functional and luxurious. The IKON is very customizable for those wanting a coach with individuality and it is built on a commercial duty truck chassis for years of service.
IKON takes it up a notch with standard leather Flexsteel® furniture and hide-a-bed, solid surface Corian® counter tops, polished tile flooring, and more. Renegade offers a variety of floorplans with an almost unlimited list of options, appliances and accessories.
Another notable advantage is that each IKON motorcoach is designed specifically for the individual customer's use and need. This is how Renegade gained it's reputation in the auto racing industry. Renegade designers and craftsmen build superior products in a state-of-the-art, 220,000 square foot manufacturing facility. A quality work environment and workforce allows Renegade to produce the finest coaches available.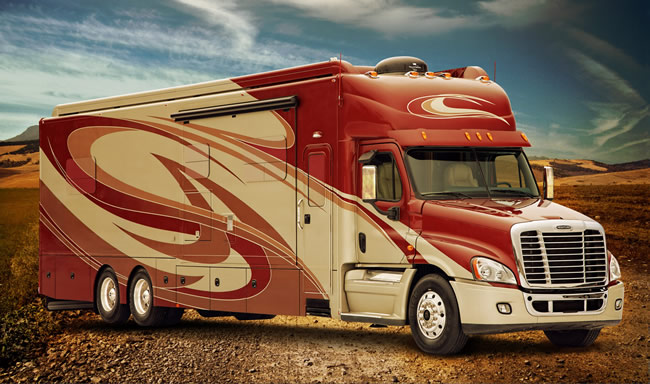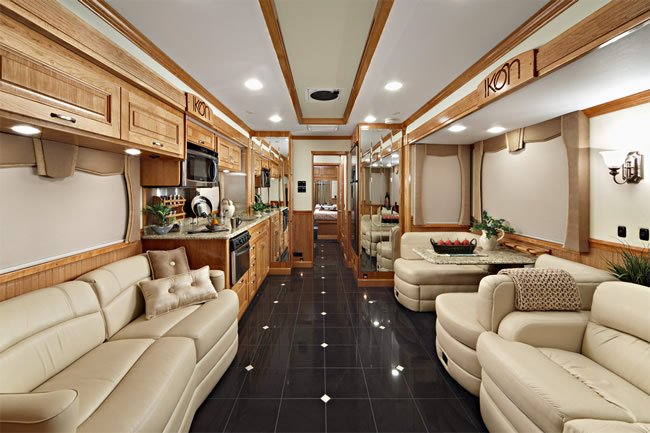 Renegade is located in Bristol, Indiana just outside the heart of Elkhart's RV Industry. Contact them about IKON products at 888-522-1126 or visit kibbi.com