Rachael Ray Hits the Road in Fleetwood Icon Class C Motorhome
RIVERSIDE, Calif., Sept. 11 2008 --
Fleetwood's RV Group, a leading producer of recreational vehicles, announced that its 2009 Icon(R) 24D Class C diesel motor home will serve as home away from home for RACHAEL RAY talent and crew during the show's "Rach to the Rescue" series.
"Rach to the Rescue," which debuted nationally on Tuesday, September 09, 2008, is hosted by Alex Boylan, season two winner of CBS' Amazing Race, who travels with seven television celebrity chefs to various cities across the country to rescue viewers in need of culinary expertise.
"We are excited that our 2009 Icon is a part of the RACHAEL RAY show," said Paul Eskritt, president of Fleetwood's RV Group. "Ms. Ray's radiant personality appeals to a wide variety of people, and the show's main demographic aligns perfectly with Icon's targeted demographic. Additionally, with the rise in fuel prices over the last few years, fuel efficiency has become a top-of-mind concern for consumers -- Icon averages 15-18 miles per gallon(1), making it one of the most fuel-efficient motor homes available today."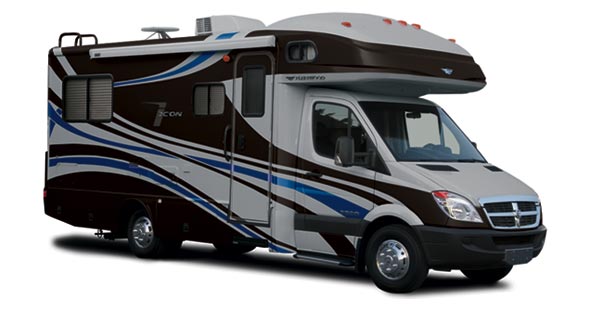 Icon is built on the highly maneuverable Dodge(R) Sprinter chassis, making it perfectly suited for any motor home driver, regardless of his or her RVing expertise. Exterior highlights on the 2009 Icon include a Mercedes-Benz(R) 6-cylinder, 3.0L turbo-diesel engine for increased fuel efficiency; pass-through storage; up to 138" long slide-outs for increased living space; highly styled front cap; and standard DuPont(R) full-body paint.
Interior highlights on the 24D model include rear bedroom with queen bed; contoured, European-style cabinetry; Corian(R) countertops; Jensen(R) 19" LCD HD-TV; and contemporary interior decor features throughout.
For a limited time, Fleetwood is offering a $7,000 rebate to qualified customers when they purchase a new, unused 2008 or 2009 Icon or Pulse from a participating Fleetwood RV dealer.
In addition to RACHAEL RAY, Fleetwood RV products have also appeared on variety of television programs, including CBS' The Price is Right and The Early Show, NBC's Today Show, ABC's The Bachelor, MTV's Road Rules, Travel Channel's Made in America, and Discovery Channel's Monster House and Monster Garage.
More information about the 2009 Icon and all of Fleetwood's recreational vehicles