Prime Time Delivers 1000th Travel Trailer, Plans New Fifth Wheel Line
Recently formed Prime Time Manufacturing has delivered the 1000th travel trailer from its production facility in Wakarusa, Indiana.
The towable builder, a division of Forest River, Inc, recognized the achievement with a brief ceremony and luncheon attended by over 130 production workers, vendors, and Wakarusa town officials. Many of the production employees have been with the company since its inception in September of 2009.
Special guests included the management staff of Tom Raper RV with headquarters in Richmond, Indiana, who were presented the keys to the milestone unit – a Tracer 3000 BHD. Dave Bane, president of Tom Raper RV, applauded all of the Prime Time personnel for quickly bringing to market products that have made a significant impact on the bottom line of his dealerships. "Both the Tracer and LaCrosse have proven to be very innovative, well built, and quite popular with our retail customers. We love Prime Time's aggressive approach to product development and are proud to take delivery of their 1000th production unit," commented Bane. Tom Raper RV is Prime Time's largest volume RV dealer with three locations in Indiana and Ohio.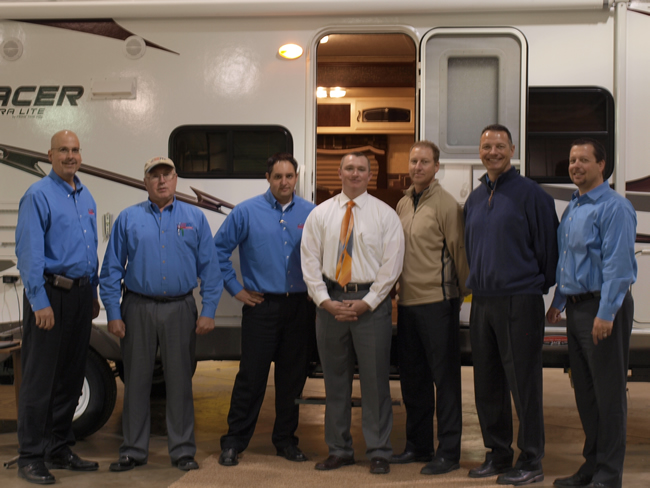 Pictured from left to right are Jim Leep, Ed Unger, Scott Miller, and Eddie Unger from Tom Raper RV and Jason Gill, Jeff Rank, and Chris Hermon from Prime Time Manufacturing.
During the ceremony, Prime Time president Jeff Rank announced plans to introduce the company's first line of fifth wheels called Crusader. "We will begin production by the end of May and expect to be hiring a significant amount of additional employees within the next few weeks. The management team at Prime Time understands the fifth wheel market and we look forward to making Crusader an industry leader."