Lazydays Adds Monaco RV to Motorhome Lineup
SEFFNER, Fla., Jan. 12 -- Since opening for business in 1976, Lazydays has strived to provide the perfect RV purchase and ownership experience by treating both their customers and business partners as members of their family. Today, Lazydays is proud to announce an addition to the family with the newest line of motorhomes by Monaco RV.
Lazydays CEO John Horton believes that Lazydays and Monaco share a passionate dedication to RVers that has resulted in scores of happy customers in the past and will continue to grow as the RV industry moves into the future. "Over the past decade, Lazydays and Monaco have cultivated a strong relationship built on trust and the mutual devotion to helping RVers fulfill their dreams," said Horton. "We look forward to building on this relationship. As a longtime top Monaco dealer, we are confident that Monaco RV will be a market leader for many years to come."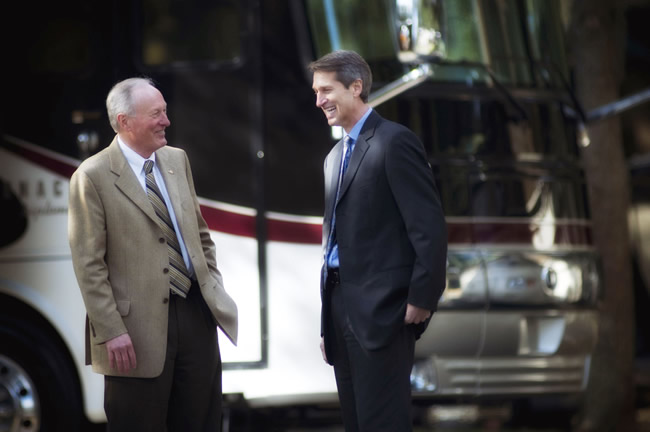 Kay Toolson, President of Monaco RV, and John Horton, CEO of Lazydays..
Monaco RV President Kay Toolson asserts that Lazydays' commitment to its customers is extraordinary and that both Lazydays' and Monaco's tremendous devotion to the RVer is a sign that the future is bright for those who love RVing. "It has always been our goal at Monaco, as it has with Lazydays, to take care of our customers better than any competitor ever could," said Toolson. "The bond between our two companies is going to make the experience for our mutual customers the best it can possibly be. We look forward to many successful years together."
About Lazydays
Lazydays® was founded in 1976 with two travel trailers and $500. Today, the company's continued focus on RV expertise and unparalleled customer service has not only made it the largest single-site RV dealership in North America but also a place that many RVers refer to as their home away from home. To learn more, visit Lazydays.com.
About Monaco RV, LLC
Monaco RV, LLC, a Navistar company, is a manufacturer of motorized and towable recreational vehicles. Headquartered in Coburg, Oregon, with substantial manufacturing facilities in Indiana. For additional information about Monaco RV, LLC please visit www.monaco-online.com.
About Navistar
Navistar International Corporation (NYSE: NAV) is a holding company whose wholly owned subsidiaries produce International® brand commercial and military trucks, MaxxForce® brand diesel engines, IC Bus brand school and commercial buses, and Workhorse® brand chassis for motor homes and step vans. Additional information is available at www.Navistar.com/newsroom.