Iraqi Veteran will Rediscover America by RV
This great land known as the United States was built on solid values in small towns with communities of folks where everyone knows your name. Today, America is not much different. Sure, we still have communities, albeit a bit larger. There are church communities, branches of the military service, RVers, and extended communities such as Facebook and Twitter, to name a few. But the one thing that they all have in common is the quest for connection with our fellow brothers and sisters.
Robert Everhart knows this story on the most personal of levels. For more than half his life he has lived his mantra - to be of service to his fellow man and to his country. Master Sergeant Robert Everhart served in the Air Force for 22 years. And as the saying goes, you can never take the soldier out of the man. A short time after leaving the Air Force in 2004, Everhart returned to be of service to his Country as a contractor supporting our troops in the Middle East including Afghanistan and Iraq.
Nearing the end of his current contract, he and his wife Judy were mapping out some of their goals - and one of them was to rediscover America and the freedoms he had protected for most of his life. To fulfill that dream, a new RV was in his sights.
Everhart is not new to camping and the RV lifestyle. Decades of service were a proving ground for survival. Also, having had a 32' fifth wheel, a "house on wheels" as he called it, Everhart wanted a bit more freedom to go to the more majestic and secluded places that a smaller RV would allow. So he set off to find out as much as he could about products on the market.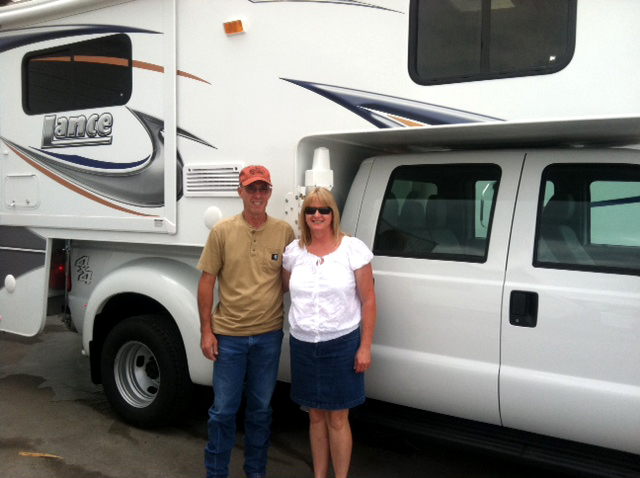 Master Sergeant Robert Everhart retired in 2005 but the call to service took him back to the Middle East in 2006. Now returning from Iraq, Everhart plans to rough it American-style in his brand new Lance camper.
With the advent of technology, service personnel can easily have video chats with their family. So besides staying in touch with his wife, step daughter, daughter and son (Everhart also has two grandchildren ages 8 and 12), he was able to take advantage of his internet time to research RVs.
Robert's wife first went to the local RV dealer to see the Lance product. A & L RV Sales (www.alrvsales.com) has two locations in authentic all-American towns named Johnson City and Murfreesboro, Tennessee. You can rest assured that everyone knows your name in those communities.
When you call the dealership, a wonderful woman answers the phone as if she were your aunt or good neighbor bringing you a home-made pie for dessert. Larry Stover who owns the dealerships proclaimed his pride in this very special sale. Everhart had chosen a Lance 950 slide-in truck camper, sight-unseen based on his research and coordination with his wife.
The Everhart's salesperson was John Bowen. Everhart's wife and Bowen did all the coordination in Robert's absence. It was never intended to be a complete surprise - but when Everhart saw his Lance 950 for the first time you would have not known the difference.
When asked which truck Everhart was going to carry his Lance he answered without hesitation, Ford. It would be his sixth F-series since 1986 and "there are no better trucks in the world," he stated, showing his pride in American-made products.
The Everhart's live in a wooded area, which is about a six to seven mile drive just to get groceries. "It's different than living in a city", says Everhart. He is pleased to be home to assist his wife with his parents. Their care was a primary concern and with the drive to the VA hospital in Nashville being two hours, being home not only made things easier - the stress of him being in a foreign place was lifted from his parents and their health has improved.
Having lived a life of service, Everhart has an attitude that is selfless, disciplined and based in respect. The military taught him values he thought he had, but found that living them was a much different story.
As for going back into service, Everhart's wife has put her foot down, giving him a look that only a wife can conjure. In his absence, she has grown to be an avid NASCAR fan. And while Robert has his ideas about camping, their first trip will be to the Bristol Motor Speedway in Tennessee for a NASCAR event.
Future trips will not involve a track and speeds over 100 miles per hour. In fact they will be much quieter, with the sound of a brook, and the cast of a lure on a fishing line being the only things to break the silence.
Everhart recalls spending time in Great Falls, Montana and the Smokey Mountains. "There is no place like America - especially when you see how other people live and what they go through." And he plans on exploring every corner of this Country of which he is so proud, in his new RV.
Everhart is beginning his new RVing quest in a Lance model 950 truck camper (www.LanceCamper.com) which is about nine and a half feet long and says a larger model may be in his future after some travels.
Everhart has no plans to end his life of service. He considers every citizen in this Country as part of his extended family - and he will find a way to continue to make a difference everywhere he goes in every life he touches.
On a layover in Maine, on his way to Iraq, folks greeted him and shook his hand, thanking him. It took Robert totally by surprise. And if you should meet him, you'll find that humility still intact.
Robert's life has been impacted to the core by the Marine Corps slogan - "God, Country, Corp." If you've never understood the meaning of this - the story of Everhart's life brings it into perspective.
Welcome home Robert. Welcome home.