Great adventures in RV Camping, Freightliner style
GAFFNEY, S.C. – Feb. 19, 2010 – The adventure of camping has always been an irresistible draw to RV owners. Now, Freightliner Custom Chassis Corporation (FCCC) is giving enthusiasts a chance to explore their own recreational vehicles at two-day adventure of camping sessions, Feb. - Nov. 2010.
Camp Freightliner is an opportunity for RV owners to spend two intensive, fun-filled days learning some of the ins and outs of what makes their vehicles tick. Campers will hear from Freightliner experts who will lead workshops covering RV ownership from A to Z, including:
Understanding and maintaining air brake and electrical systems
Overall tips and guidelines for maximum performance
Suggested maintenance intervals
The importance of weight distribution
Proper vehicle storage
In addition, pilots and co-pilots have the opportunity to learn firsthand the intricacies of a Freightliner chassis by examining a bare chassis to highlight and review its features and components.
FCCC officials have designed the Camp sessions for any new, existing or hopeful Class A motorhome owner who wants to learn more about diesel-powered RVs and how to care for them.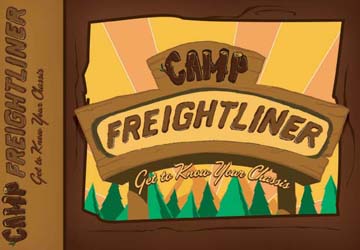 Nearly 30 individual Camp Freightliner sessions are offered Feb. – Nov. 2010. See http://bit.ly/7MDzKj for specific information. For a limited time, interested pilots and co-pilots can participate in the February Camp Freightliner classes (Feb. 15-16 or Feb. 18-19) for a discounted rate of just $100 for both attendees, a 33 percent savings. Regular pricing for Camp sessions are $150 for pilot and co-pilot registration.
Camp Freightliner accommodations include full hook-ups and discounted camping rates are also available at the local Spartanburg KOA campground. Camp Freightliner will host a cookout dinner for participants the first evening of each session.
"We recently opened Camp Freightliner to anyone who might be interested in moving from a towable or fifth wheel to a Class A motorhome, or for people who just want to learn more about owning a motorhome, so we could educate them about chassis maintenance and give them an understanding what goes into owning and operating a Class A RV," said Dave Hoover, customer support manager at FCCC.