First EverGreen Eco-Friendly Travel Trailers Delivered
ASHLAND, Ky. —The new EverGreen Recreational Vehicles LLC is pleased to announce that the first of its Ever-Lite travel trailers was delivered to Summit RV of Ashland. President of EverGreen, Doug Lantz and the company's Vice President of Sales and Marketing, Kevin Slater, traveled to Summit RV from their Middlebury, Indiana manufacturing headquarters, to present a special award signifying the first true eco-friendly recreational vehicle in the field on April 16, 2009.
A bright spot in the much maligned RV manufacturing world, the start up EverGreen Recreation Vehicles LLC is just 90 days old and has already revolutionized the industry with innovative, eco-friendly Ever-Lite travel trailers. The trailers are the first all composite-construction, lightweight, formaldehyde-free, recyclable travel trailers ever produced. Summit RV received the first EverGreen Ever-Lite travel trailer one week ago.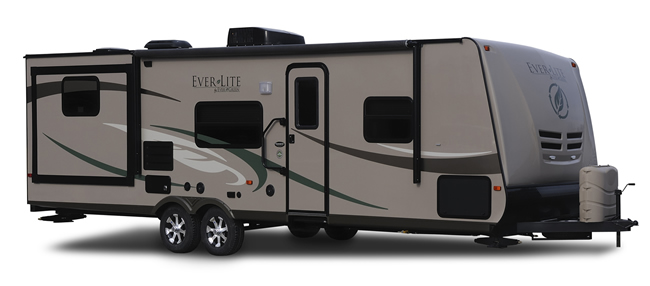 Photo Courtesy of Evergreen RV
President of Summit RV, James Bradley, is excited about the new EverGreen environmentally friendly product line. "We're really excited about Ever-Lite campers for several reasons. We like the idea of selling green and taking care of the environment. We're also excited that the trailer is so lightweight it can be towed by a variety of vehicles. The concept of doing away with wood and eliminating any concerns of rot or decay and a longer lasting, more durable trailer is another benefit that drew us to this product," said Bradley.
"Although we're out on the cutting edge of green, sustainable innovation with our new Ever-Lite travel trailers, we're still servicing our dealer partners with a traditional twist. We are so pleased that Summit RV, James Bradley and his team have taken on our Ever-Lite product line that we came down to mark this historic event for our company in person. These are exciting times. We're proud to have Summit RV as a partner as we retool our industry with greener, lighter weight, more fuel-efficient products," concluded Lantz.