Escapees RV Club Celebrates 30 Year Anniversary
30 years young and growing! The Escapees RV Club teamed with the city of Gillette, WY, to celebrate 30 years in business. The all-American birthday bash was held over the recent Fourth of July weekend. A pancake breakfast, parade, all-you-can-eat hot dog feast, and cake and ice cream were followed by an impressive fireworks display.
The birthday bash theme of "3 in 30" highlighted the fact that the third generation of the club's founding family is now directing the club's day-to-day operation. Founders Joe and Kay Peterson rode in a place of honor on the club's house-in-wagon float in Gillette's parade. The second generation, Cathie and Bud Carr (who now travel full time), were on hand to meet and greet the thousands of RVing friends and staff who made the trip to Gillette to enjoy Escapade and help with the celebration. The third generation, Angie and Greg Carr (left), handle the day-to-day operation of the club from its national headquarters in Livingston, TX. Angie and Greg used this Escapade as their opportunity to enjoy the RV lifestyle and drove their RV from Texas to Wyoming. RVing is in their genes!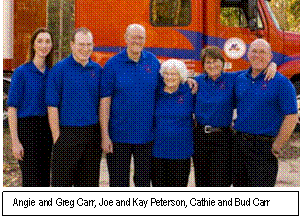 Billed as the club's 30th Birthday Bash, the day followed the Escapees' annual Escapade – a five-day event jam-packed with seminars, workshops, classes, entertainment, and fun. RVers and RV-wannabes packed the Cam-Plex in Gillette, WY, for three days of pre-Escapade activities, the five-day Escapade, and the birthday bash. Many Escapade-goers toured Wyoming's numerous camping areas and monuments while traveling to and from Gillette.
The Escapees RV Club is proud of its third-generation family-owned business status and believes that continuity of vision is what makes the club unique. Angie Carr states, "We really are a family organization, and our family motto of sharing and caring is visible in everything we do."
Angie invites anyone who missed the fun in Gillette, to join the Escapees family for the 2009 Escapade in Sedalia, MO, May 24-29, 2009.
About Escapees RV Club:
The Escapees RV Club was started in 1978 and provides opportunities for fun and adventure, with a total support network for RVers. The total support network includes local chapter events, HOPs (outings and adventures across the country), annual five-day Escapades with over 80 seminars to enhance the fun and use of RVs, an award-winning magazine, mail-forwarding service, short-term and long-term parking options through its parks system, and much more.
The club's "caring and sharing" philosophy is exemplified by the separate, nonprofit 501(c)(3)corporation, Escapees CARE, Inc. CARE's adult day care program provides day-long assistance for RVers who must interrupt their travels to recover from illness, injury, surgery, strokes, and those who have Alzheimer's or other dementia. Resident participants attend a professionally supervised program during the day and go home to the comfort of their own RV at night.