2011 Eddie Bauer Edition Airstream
Airstream, the most recognized RV manufacturer in North America, partnered with Eddie Bauer to produce the Eddie Bauer Airstream travel trailer. With more than 160 years of combined experience, Airstream and Eddie Bauer have partnered to create the ultimate adventure travel trailer, specifically designed to bring outdoor enthusiasts closer to Mother Nature in comfort and style.
Because of the specific needs of outdoor adventure travel, the Eddie Bauer Airstream includes a unique sport hatch in the rear of the trailer. The hatch allows for easy loading/unloading of oversized equipment such as bikes and kayaks which can then be secured in the fold-away dinette/lounge area. The unit is also equipped with premium oversized Michelin tires to provide greater ground clearance and rugged wheel-well cladding to protect against off-road debris. A handheld exterior shower makes for easy clean-up for the traveler, their equipment, or their four legged-companions. Extra clotheslines and racks are intended for hanging wet clothing while durable exterior tie hooks are ideal for securing equipment or making sure Fido stays close by.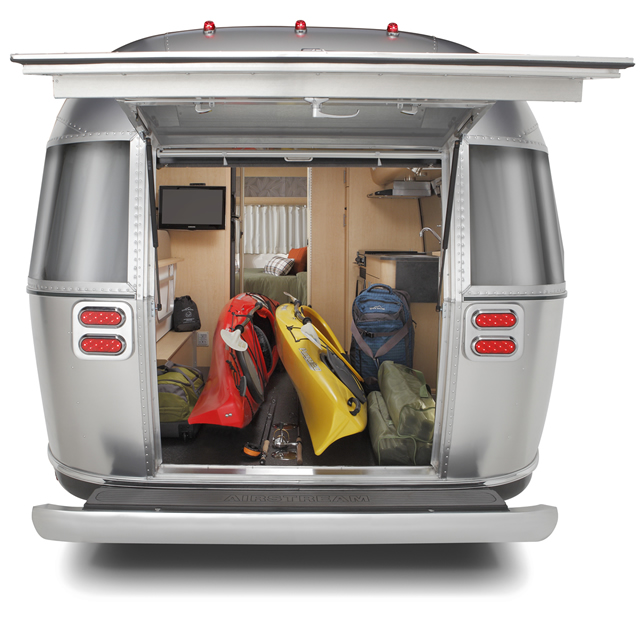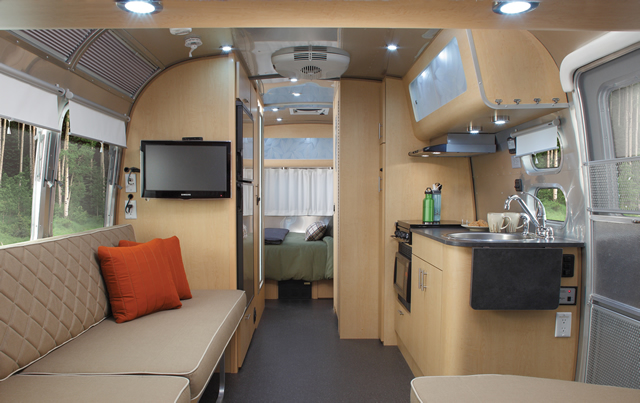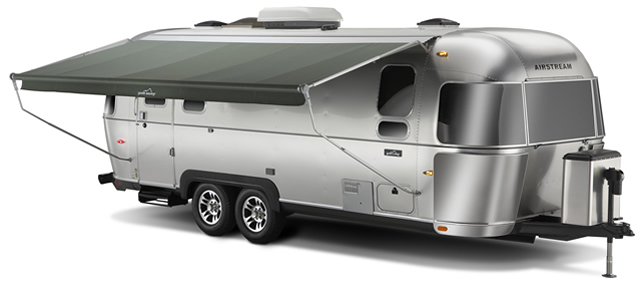 The interior features an Eddie Bauer-inspired décor , including maple and soapstone laminates, fossilized leaf pattern roof locker doors, quilted fabrics with contrast piping, as well as extremely durable and stain-resistant Sunbrella upholstery. The 25' trailer can sleep four people, and its queen-size bed comes with an Eddie Bauer Goose Down duvet, pillows, and throw to provide total comfort at the end of an adventurous day. And the rear sport hatch, with its roll-down screen, creates the ultimate portal for bringing the outdoors in.
The Eddie Bauer Airstream also comes with a co-branded duffle bag and two daypacks that make pack & go extra easy.
"Airstream customers have always been passionate in their pursuit of outdoor adventure, and now we've created the ultimate tool to support their needs," says Airstream President and CEO Bob Wheeler, "And we've done so by perfectly melding the inimitable style of two great American brands."
"Eddie Bauer has been outfitting fishermen, hunters, mountaineers and other outdoor adventurers for 90 years," said Neil Fiske, president and CEO of Eddie Bauer. "Partnering with Airstream gives us the opportunity to build something special for those who enjoy comfort and style yet want the flexibility to take all of their gear and equipment on their family adventures."
The partnership between Airstream and Eddie Bauer will be supported by coordinated marketing campaigns by both brands, including its feature on the cover of Eddie Bauer's 2010 Ultimate Gift Guide and a consumer unveiling at January's Sundance Film Festival. A line of co-branded merchandise will also launch this spring. The Eddie Bauer Airstream has an MSRP of $73,702 and will be available at dealers nationwide in February 2011. It was unveiled on Nov. 30 at the 48th annual National RV Trade Show in Louisville, Kentucky.