Dometic Claims Most Powerful RV Refrigerator
ELKHART, Ind. (March 2008) - Dometic Corporation introduces the most powerful cooling unit in the RV industry - the RM1350SS Elite 2+2 refrigerator that was designed with superior style and function in mind. The four-door Elite refrigerator touts a pass-through freezer, through-the-door ice and water, automatic or manual door locking system, and contemporary styling.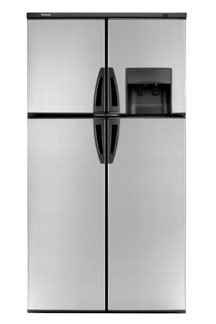 The partition-less freezer stores even the bulkiest items with ease, while the patented automatic door lock system locks the Elite's doors whenever the RV's ignition is turned on. Three crispers hold more food and keep it fresh longer, and dual-way shelf guards hold jars and bottles securely with no spills. Through-the-door ice water and optional icemaker put convenience at the user's fingertips. Contemporary styling and upscale appearance make it the centerpiece of any RV kitchen. Stainless steel or black panel inserts are available.
Dometic is a leading international supplier of specialty products and systems for increased comfort away from home. Dometic provides recreation vehicle, pleasure boat and special refrigeration systems for use mainly in the leisure industry, the hotel sector and in medical markets. Dometic has achieved leading global market positions by focusing on its strong customer relationships and developing innovative solutions. Dometic has production facilities in 10 countries, its own sales and marketing operations in 17 countries plus approximately 65 distributors globally. For more information, contact Dometic at 574-294-2511 or visit www.dometicusa.com.