Dometic China Toilet Offers RVers Comfort, Easy Maintenance
RVers can have the joys of being on the road without sacrificing the comforts of home with Dometic's SeaLand Traveler 500H toilet thanks to its 100 percent china composition with standard adult-size wooden seat.
The Traveler 500H's 360-degree full-rim flush cycle improves ease of maintenance and an optional high-pressure hand-sprayer makes cleaning a snap. The ergonomically-positioned foot pedal makes it easy to operate for RVers of all sizes and physical capabilities.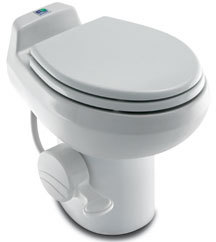 Dometic is a leading international supplier of specialty products and systems for increased comfort away from home. Dometic provides recreation vehicle, pleasure boat and special refrigeration systems for use mainly in the leisure industry, the hotel sector and in medical markets. Dometic has achieved leading global market positions by focusing on its strong customer relationships and developing innovative solutions. Dometic has production facilities in 10 countries, its own sales and marketing operations in 17 countries plus approximately 65 distributors globally. For more information, contact Dometic at 574-294-2511 or visit www.dometicusa.com.