Dometic Offers First RV Air Conditioner & Dehumidifier Combo
ELKHART, Ind. - Dometic Corporation offers an industry-exclusive dehumidifier/air conditioner combo unit. The powerful unit removes as much as 12 gallons of water every 24 hours, helping to protect an RVer's investment from mold and other humidity-related concerns. Another first, the low-profile dehumidifier/air conditioner is the first in the industry to use 410A refrigerant, making it more environmentally friendly.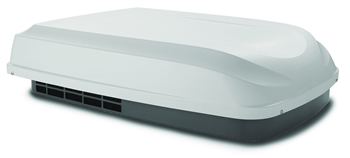 The hands-off operation works seamlessly with the new Dometic Comfort Control Center to provide RVers with all-around comfort and peace of mind. The unit features 11,000 BTU compressor capacity.
Dometic is a leading international supplier of specialty products and systems for increased comfort away from home. Dometic provides recreation vehicle, pleasure boat and special refrigeration systems for use mainly in the leisure industry, the hotel sector and in medical markets. Dometic has achieved leading global market positions by focusing on its strong customer relationships and developing innovative solutions. Dometic has production facilities in 10 countries, its own sales and marketing operations in 17 countries plus approximately 65 distributors globally. For more information, contact Dometic at 574-294-2511 or visitwww.Dometic.com.