Coachmen RV Introduces Laminated Sidewalls on Spirit of America Travel Trailers
MIDDLEBURY, Ind. — A moderately priced travel trailer with standard laminated sidewalls was all but unheard of until now. Coachmen changes that with its popular Spirit of America™ line. This travel trailer now offers the benefits of laminated, aluminum-frame construction at a price competitive with many conventional wood-framed, non-laminated models.
By going to vacuum-bond laminated sidewalls, Spirit of America gains a number of advantages:
• Alumicage™ construction, which utilizes aircraft-grade tubular aluminum framing, instead of wood framing in the walls. Aluminum framing is stronger, lighter and won't retain moisture like wood.
• The fiberglass exterior skin is more appealing than traditional ribbed aluminum siding, and the smooth surface is easier to clean. Just hose it down and wipe it off.
• The fiberglass exterior skin is not vulnerable to dents like ribbed aluminum skin.
• Coachmen uses a vacuum-bond bag process that provides consistent pressure over the entire wall for 30 minutes or longer to ensure a solid bond.
Spirit of America trailers range in lengths from 19 feet 5 inches to 37 feet 9 inches and base weights of 3,145 pounds to 7,309 pounds. A number of the Spirit of America floorplans are light enough to be towed by many of today's lighter duty SUVs and pickups.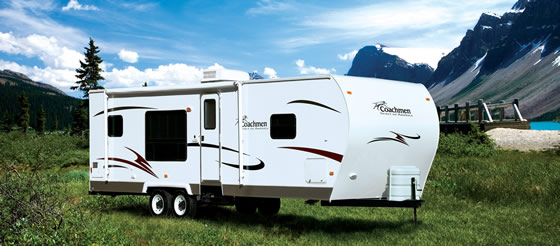 While Coachmen upgraded Spirit of America on the outside with high-end laminated walls, it retained those features that have made it so popular with RVers — features such as the generous exterior pass through storage, easy to use floorplans and well-appointed interiors.
Stepping inside Spirit of America is like stepping into a well decorated home. Spicy oak cabinetry with hardwood mortise-and-tenon cabinet doors gives the interior a residential appearance.
In the kitchen, the seamless designer countertops provide an upscale solid surface look. For style and easy meal preparation, the kitchen features a three-burner range with oven, a double-door refrigerator and a stainless steel kitchen sink with high-spout faucet.
On the entertainment side, most models of Spirit of America come with the Dolby® Digital 5.1 surround sound system with DVD/CD player. There is also an optional 19-inch LCD television with an outside mounting bracket.
Spirit of America is a very family friendly trailer. Each trailer is equipped with a queen bed and five floorplans have bunk beds available. When it comes to getting a good night's rest, the optional Sleep Easy package upgrades the master queen bed with a pillow top mattress, and the living area sofa with a hide-a-bed air mattress. Depending on the floorplan, Spirit of America will comfortably sleep four to ten people.
Spirit of America shouts out high-end looks with its smooth laminated walls and tastefully decorated interior. But, it's a luxurious look that comes with a very affordable price tag. The MSRP for this trailer ranges from $14,680 to $19,450.
For more information, go to www.easyrving.com.