Coachmen's M-Series Travel Trailer Gives New Meaning to Ultralight
MIDDLBURY, Ind. — Coachmen RV Group has made towing easier than ever with its new M-Series travel trailer that takes ultralights to a new level of utility for any RV buyer, even the first-time buyer. The M-Series, which started to ship this month, includes three floorplans that start around 3,000 pounds base weight, and two floorplans starting under 5,000 pounds.
That means these travel trailers only need the smaller SUV, minivan, crossover vehicle, or light duty pickup to tow them (check you auto owners manual for verification). This eliminates the expenses associated with a larger, less-fuel-efficient tow vehicle and makes it easy to just hitch up and go when you want to.
"There are many travel trailers today that claim to be ultra light," says Bill Martin, vice president of marketing for Coachmen RV Group. "But often they are still not light enough for the buyer who is looking for something to tow with his or her existing vehicle. M-Series opens up the RV experience to a new segment of buyers. It's also great for experienced RVers who want to downsize their tow vehicle. With the M-Series they can downsize their trailer without downsizing their quality or amenities."
The construction technology that anchors the M-Series includes laminated, aluminum frame construction. An easy to clean fiberglass exterior adds extra toughness, while the standard Equa-Flex™ suspension soaks up and dissipates road bumps and vibrations for a smoother and easier towing vehicle.
This light but tough construction carries a host of RV features that rival many larger travel trailers. These include:
Beauflor® flooring —a durable floor covering that is skid resistant, even when wet.
Front window with awning.
Fully equipped galley with high-rise kitchen faucet, stainless steel sink, double door refrigerator, 2-burner range and optional convection microwave.
AM/FM/CD/DVD player with speakers inside and outside.
Optional LCD TV with inside/outside mounting brackets.
Optional bike rack that mounts to the rear bumper.
Optional portable grill.
Optional aluminum wheels.
The three models under 3,100 pounds are 18 feet 9 inches in length and sleep three to four. The two under 5,000 pounds are 20 feet 10 inches in length and sleep five.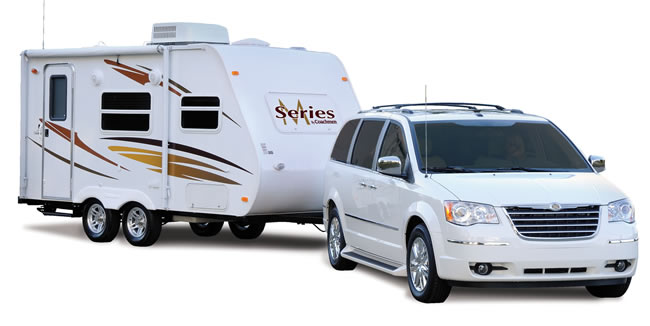 "The M-Series is ideally suited for the next generation of lighter duty and more fuel efficient tow vehicles. It has all the amenities that you would expect to see in a trailer twice its length. But it offers these features in a lightweight, easy-to-handle package that allows the weekend RVer to drive home from work on Friday, hitch up, and head out," said Martin. "For people with limited time available, the M-Series allows them to make the most of their time off with family and friends."
"The M-Series size and impact on fuel-efficiency also allows buyers to make a statement about affordable and environmentally conscious RVing, while the M-Series eye appeal announces that these new owners have indeed arrived on the RV scene."
The M-Series has an MSRP starting around $16,000.