Chevy-Workhorse motor home chassis boosts market share 17 points from '04 to January '08
NION CITY, Ind. (April 2008)— In the midst of a down market, the Chevy Workhorse cab chassis for Class C motor homes continues to increase market share, growing to 28 percent for 2007, a 5 point increase over its 2006 average. That growth continued in early 2008 as the chassis captured 30 percent market share for January. Figures are based on vehicle registration data compiled by Statistical Surveys of Grand Rapids, Mich.
The January 2008 figure represents a 17 point increase over the platform's 2004 average market share of 13 percent, which was the last year the chassis appeared exclusively under the Chevrolet badge. Late that year, GM and Workhorse announced that the cutaway platform would be co-branded as a Chevrolet-Workhorse product for the 14,050 lb. GVWR model. In 2005, the joint badging was extended to the 9,600 lb. and 12,300 lb. GVWR models. Market share rose to 18 percent in 2005 and to 23 percent in 2006.
"The Workhorse-GM relationship on this chassis has certainly resonated with RVers, even when the motor home market has been down," said Bill Walmsley, Workhorse director of RV marketing. "With the 2008 upgrades to horsepower and other features, we expect this platform to continue to capture a greater share of the Class C motor home market. This chassis shows the way engineers have thought about the motor home experience and how to make it more comfortable, convenient and more like an SUV experience. We expect this chassis to continue to evolve in that direction and become a significant force in the motor home market."
Actually roomy
"What a lot of people like about it is that, for a Class C chassis, the cab comes the closest to what you might actually call 'roomy,'" said Walmsley. Large foot wells provide space to stretch out on long trips. A forward-mounted engine doghouse leaves more room to get in and out of seats from the inside, while wide step pads make it easier to get in from the outside. Oversized door storage pockets provide extra room for maps and gear.
Meanwhile, the redesigned cockpit for '08 puts more controls than ever at easy reach, starting with a new steering wheel with new cruise control activation. A new radio adds MP3 capabilities with convenient switches and dials. New HVAC control knobs and childproof window switches add more convenience and safety.
The new 2008 gauge cluster also enhances driver visibility while adding a Driver Information Center. This dash-mounted screen provides maintenance reminders for systems including the A/C, air bag, battery and antitheft system. Along with various engine function warning messages, it provides a fuel status that includes fuel used, fuel range, and average fuel economy.
"Add the upgraded seating and you've got a very comfortable and user-friendly new cab that will definitely enhance the driving experience," said Walmsley.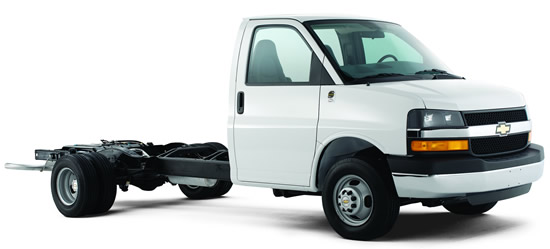 Many user-friendly touches
Some of the other user-friendly touches Walmsley notes include the labeled and easy to find fluid fills and engine monitoring points. A step on the front bumper makes it easier to reach the windshield for cleaning. Battery rundown protection, lockout prevention and retained accessory power provide another safety net.
And, speaking of safety: the front bumper attaches directly to the frame and a strong cross member, increasing the coach's crush zone and its ability to absorb energy during front-end impacts. Large anti-lock front disc brakes with twin piston calipers provide sure stopping, while Dynamic Rear Proportioning adjusts brake pressure toward the front or rear as needed.
Also adding to passenger comfort is the ride itself. To eliminate body roll and road wander, an advanced, coil spring independent front suspension, heavy-duty axles and a rear stabilizer bar with greater diameter than the competition were incorporated. What's more, the sharp turning radius helps get in and out of tight spots with ease.
"A Class C is typically a driver's first experience with handling a motor home," said Walmsley. "If we can make that a good experience, not too different from say, driving an SUV, we think that driver will be hooked on motor home living."
The chassis is powered by the 6.0L GM Vortec™ gas engine that also gets a horsepower boost for 2008 from 300 to 323 at 4,600 rpm, and a torque boost from 360 lb.-ft. to 373 lb.-ft. at 4,400 rpm., giving drivers more acceleration and hill climbing power when needed. The chassis comes with GVWRs of 9,600 lbs., 12,300 lbs., and 14,050 lbs. A Duramax 6.6L V8 Turbo diesel engine is also an option for the 12,300 lb. GVWR model.
New extended warranty
Providing peace of mind is Chevy's free emergency roadside service for five years or 100,000 miles. That is the same term for the new Chevy-limited powertrain warranty. "The new, extended warranty in itself should give RVers a lot of confidence out on the road," said Walmsley. "And if a flat tire or something should happen, free, expert help is just a phone call away."
About Workhorse Custom Chassis
Workhorse Custom Chassis is ISO 9001 certified and a leader in the manufacture of chassis for motor homes, walk-in trucks and buses. It is a wholly owned subsidiary of Navistar, Inc. For additional information call 877-294-6773 or visit www.workhorse.com.