Customer & Dealer Feedback Drives Innovation on 2009 American Coach Luxury Motor Homes
Fleetwood Enterprises' RV Group, a producer of recreational vehicles, announced the release of its 2009 American Tradition, American Eagle and American Heritage. Many of the new features and benefits on the 2009 American Coach line of luxury motor homes are the direct result of customer and dealer feedback gathered by the American Coach team throughout the year.
One shining example of this feedback is the new full-wall-slide floor plan on the 2009 American Tradition and American Eagle (42P). This luxurious model features opposing 30" deep flush-floor slide boxes that create an open residential feel unmatched in the industry. Key bedroom amenities include a computer desk, 26" LCD TV, optional queen bed from Select Comfort™, and optional stacking washer/dryer.
The galley on this model is also fully appointed with beautiful fixtures from Kohler®, solid surface countertops as well as an optional dishwasher and residential side-by-side refrigerator with icemaker. An optional 32" mid-ship LCD TV and standard powered day/night shades for the front windshield round out the list of key features on this gorgeous full-wall-slide floor plan.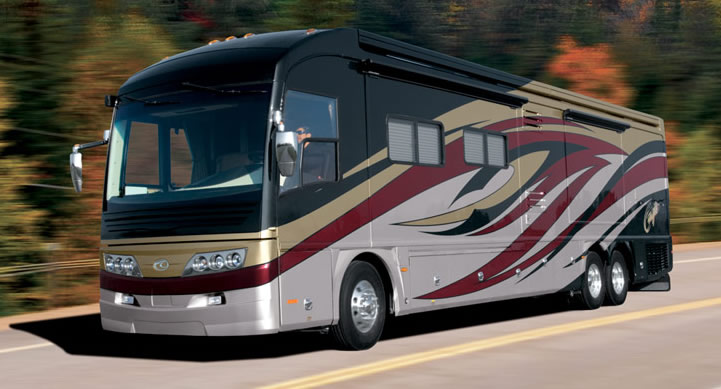 2009 American Eagle by Fleetwood
American Tradition also rolled out a rear-bath floor plan (40S) in 2009. Key highlights on this model include in-slide refrigerator and optional mid-ship TV.
Key changes on the 2009 American Heritage, the flagship of the American Coach line, include an enhanced list of standard features. Luxurious amenities such as heated tile floors, central vacuum system, bathroom and galley fixtures by Kohler, and the side-by-side residential stainless steel refrigerator are now standard in 2009. In addition, the opulent 2009 American Heritage features a fully-tiled rear bath with beautiful mosaic glass inlay, as well as tiled entry steps highlighted by back-lit step risers from Lumenaire Tiles®.
In January, the 2009 American Allegiance, the first introduction from American Coach since 1999, was released, and has since proven to be an important factor in the overall success of the American Coach product line.
All 2009 American Coach products now include a complimentary one-year membership to CoachNet. This invaluable 24/7 service provides customers with emergency roadside service and other RV technical assistance, so they can have peace of mind knowing that help is available anywhere, at anytime.
"When it comes to quality, innovation and customer satisfaction, American Coach has been an industry leader since its debut in 1991," said Paul Eskritt, President of Fleetwood's RV Group. "The secret to this ongoing success is the American Coach team's dedication to its customers, its strong relationship with its dealer body, and its passion for luxury motor homes. The 2009 American Coach line is the best example of these qualities at work."
"The 2009 American Coach products were an absolute hit in St. Paul," said Ken Jacobson, Sales Manager for Lazydays RV SuperCenter. "Our mutual customers were very impressed, which was best illustrated when we surpassed our sales goals. American Coach continues to push the envelope with innovative floor plans and features that give our customers a reason to purchase during a challenging economic atmosphere."
"We were overwhelmed by the positive response our 2009 American Coach models received from both our dealers and retail customers," said Justin Humphreys, National Director of Sales for American Coach. "The relationship we have built with them has proven to be invaluable. By listening to our customers and dealers, we have seen a tremendous growth in market share – over 40% through May 2008 – and we thank them for their important feedback and ongoing support."
For more information about American Coach, call 1-800-854-1344 or visit www.americancoach.com.