RV Travelers Enjoy National Parks of North Carolina's Outer Banks
Planning an RV trip to North Carolina's Outer Banks? RV travelers can enjoy Fort Raleigh National Historic Site, Cape Hatteras National Seashore, and Wright Brothers National Memorial in the busy summer season and at every other time of year.
At Fort Raleigh, you can visit a reconstruction of a 1585 earthworks and learn about the mystery of the first English colony in the Americas. Beginning in 1584, Sir Walter Raleigh organized a series of expeditions to North America to explore the coast and search for a suitable location to found a settlement. Roanoke Island was discovered and became the locale of Ralph Lane's fort in 1585-1586, and the "Cittie of Ralegh" was established in 1587. Inhabitants engaged in agriculture and in building projects and had children, but by 1590 the colonists had vanished. Why, how, and where "The Lost Colony" disappeared remains unknown.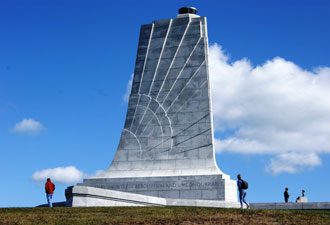 The 60-foot-tall Wright Monument stands atop Big Kill Devil Hill and commemorates the Wright brothers' "conquest of the air." (NPS/Cyndy Holda)
The same sense of awe that surrounds this historical mystery also envelopes the annual natural phenomenon of avian migration. Cape Hatteras National Seashore makes a terrific spot from which to observe this phenomenon, especially during the Wings over Water Festival. In addition to the many bird species to be seen at the seashore, its landscape—ocean, dunes, beach grasses, and cloud-crested sky—also inspires awe.
For more marvels, head to the national memorial to Wilbur and Orville Wright. At this Outer Banks park, you'll learn the story of mankind's first flights, made in 1903 after three years of trials. Put yourself in the mind of one of the Wright brothers' contemporaries, and wonder at their feat.
Check out Fort Raleigh, Cape Hatteras, Wright Brothers National Memorial, and National Park destinations.