RVing With Your Pet: Three Common Dangers
RV camping is a fun way to relax for RVers and their pets. However, there are dangers that need to be guarded against if one wishes to avoid having their pleasant trip marred. By simply knowing the dangers and the simple steps to guarding against them, a diligent pet owner can avoid misery, and a faithful pet can avoid harm. Three common dangers follow.
Disease
Perhaps the top danger of the road is disease. Regardless of what type of pet a person brings with them, that pet comes in contact with a wide variety of germs, most of which the pet's immune system has no resistance against. Unfortunately, there is no easy way to completely circumvent this danger, especially with animals like dogs, which tend to have a very curious nature. The best a watchful owner can do is make certain that the drinking water and food being supplied is fortified with vitamins and minerals. Many brands of pet food offer 'Immunity' lines, which offer food especially designed to enhance the pet's immune system. This does not mean that it is permissible for a pet owner to neglect their pet's health; animals should still be kept under a watchful eye, especially when in outdoor areas, and animal feces should be cleaned quickly from the RV, or other areas where the pet might stay. It is also important that owners know where the nearest vet is in the event of a pet emergency.
Aggressive Behavior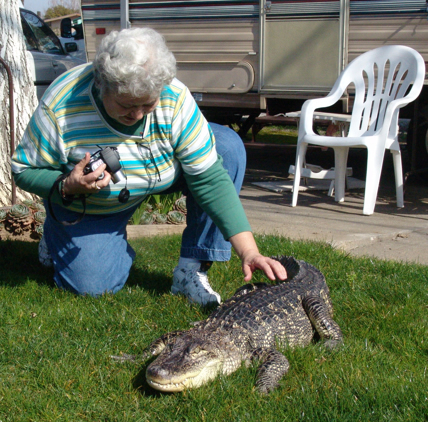 A close second in way of dangers is other animals. While any animal can be targeted by aggression from strays, predators, or prey, dogs and cats that have not been neutered are most susceptible to the dangers of other animals of the same species, as they tend to attract members of the opposite gender. This can lead to complications such as pregnancy in female animals, or fights for dominance in the case of male animals. In order to circumvent this, it is highly advisable that road-ready pet owners make a point of spaying or neutering their pets. If this is not a viable action, use excessive restraint and caution when in areas that other animals frequent. With all pets, neutered or natural, it is advisable to keep them on leashes, and keep a close eye on all suspicious activities within the surrounding area. An alert owner is often the best preventative measure against harm to their pet.
Dehydration
Finally, the third most prevalent danger on the road is dehydration. While the air conditioning may make an RV comfortable while people are in it, many turn off the engine to save gas and battery life while inside stores, or stopped for the night. At times, this can create an extremely hot and dry atmosphere, causing havoc on a pet's body. Any time a pet must be left alone in an RV, it is important to make sure that they have plenty of water available. To this end, non-spill designed bottles are often recommended.
Information provided by Pet-Super-Store.com: find an assortment of pet products like dog beds and dog steps all at the guaranteed lowest prices.