RVers Make Friends Wherever They Travel
Getting together with other RVers whenever paths cross is one of the parts of RV lifestyle that is truly the best. There are many, many ways to meet new folks and make new friends on the road. In an RV park if you are out going it is easy to greet new neighbors and inquire where they are going and where they are from.
Meetings take place in recreation halls, laundry rooms, around campfires, and of course the new, wonderful hi tech way by computer connection with other RVers on forums and email lists. You already have at least one thing in common with people you meet in these circumstances... RVing!
Even when you are not on the road all the time as most fulltimers seem to be it is a good idea to let people know where you are, in case they are traveling nearby your location. A really easy way to do this is to put your current location in your signature line on your email messages and forum posts.
Recently we received an email message from Jim Jaillet, saying he was in route from Washington to Arizona and would be stopping over in our town. He wondered if we would be able to meet with him so we could get acquainted. Of course we were delighted to have the opportunity. We met him at his rig behind the Moose Club and visited for three hours. He is a fun person to talk with and we asked a lot of questions about his travels.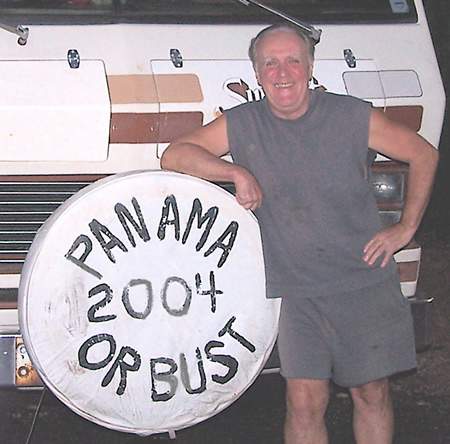 Jim Jaillet, a full time RVer, is the guru of south of the border RV travel and has a Yahoo Group forum called panamaorbust. He writes a daily blog called 'Ramblin' Man' for the Seattle Post-Inteligencer His website address is: www.panamaorbust.com
Jim has written three books about his 343 day excursion that took him 16,000 miles through Mexico and Central America. His stories relate almost everything you need to know to be a tourist in this countries from where to go, what to see, how to deal with everything from potholes to mechanical breakdowns.
Even if you are simply an armchair traveler there is more information about his books and how you may buy them on his website.