Classic Shasta Travel Trailer With Modern RV Convenience
My earliest exposure to RV travel was back in the 1950s when I was a kid. My Uncle and Aunt and their three boys brought their Shasta travel trailer (I still remember those wings vividly) to town when visiting family. Sometimes it was for the holidays and sometimes they were just passing through while on vacation.
I was always fascinated, and maybe a little envious too, as my cousin told of all the places they had gone in their little trailer.
Later, in the 1960s, that same Shasta trailer was the spare bedroom for the older boys when our family went to visit them.
It's no wonder when I see those little 'canned ham' trailers, especially the Shastas, I can't help feel nostalgic. But I'm not alone in my nostalgia for these classic trailers... just visit the TinCanTourists.com website. Members of the site are dedicated to restoring and using classic travel trailers.
A Brief History of Shasta RVs
The Shasta history is long and proud. The Shasta Trailer Co. began in 1941, building mobile homes for U.S. Armed Forces in Los Angeles. After World War II, Shasta trailers sold under the Cozy Cruiser brand.
In the early 1950s, Shasta trailers, ranging from 14 feet to 35 feet, began rolling off the production line in Van Nuys, Calif. Before the end of the decade, Shasta opened a plant in Goshen, Indiana, to keep up with demand.
Shasta developed the distinctive wings in the late 1950s and kept that look until the early '80s. During this time frame, Shasta was the best selling travel trailer in the U.S.
Coachmen RV Group bought the Shasta brand in 1976 and the Shasta nameplate has appeared on many different types of RVs, including motorhomes.
But, I don't have the skill, time and/or money to restore one and, besides, I like the moden Convenience on my RV.
Now, Coachmen RV Group has revived its Shasta™ brand with a new lightweight travel trailer. While the trailer resembles the classic Shasta's of the late '50s and early '60s, it has successfully married modern technology with tradition.
Shasta is one of the oldest brands of RV, and there are still thousands of people who proudly own and use their Shasta trailers from the 1950s and '60s. There are also a variety of chat groups and clubs devoted to finding and restoring old Shasta trailers.
The exterior has the classic appeal of the old Shasta trailers, including the "Z" side graphic design available in 4 colors, and trademark silver "wings" that made a Shasta instantly recognizable. Standard baby moon hubcaps also provide a tribute to the past. Optional 5-spoke aluminum rims are available to add a modern twist. With either wheel selection, the tires are filled with NitroFill™ nitrogen gas that runs cooler and can extend tire life up to 30%. Complimentary Travel Easy™ roadside assistance is also included for 1 year to provide peace of mind.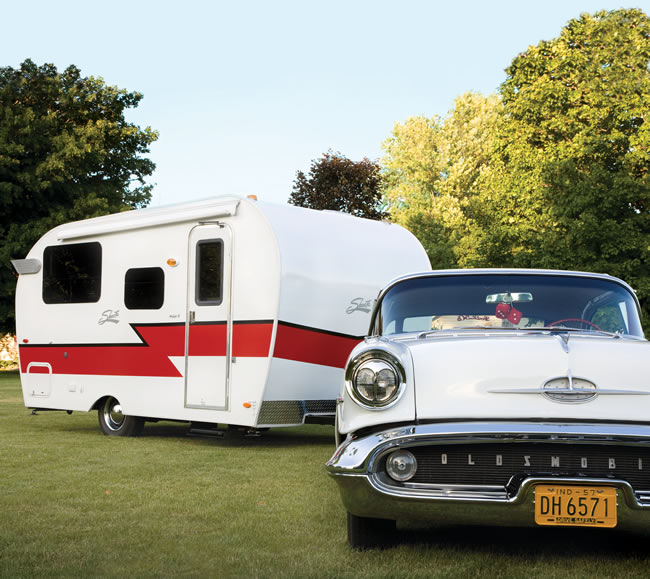 The new Shasta Airflyte from Coachmen RV Group paired with a classic 1957 Oldsmobile.
The new Shasta Airflyte™ is constructed with aluminum framed, vacuum-bond laminate sidewalls and a one-piece fiberglass roof. This makes for a very lightweight trailer that can be towed by both contemporary and classic vehicles. The trailer's base weight starts under 2,500 pounds. Coachmen designers consciously worked to keep the weight down so that they could accommodate those Shasta aficionados who want to pair their classic car with their travel trailer.
While the outside of the trailer reminds people of a by-gone time, the spacious interior boasts a full 6-feet 5-inches of headroom and modern amenities. For instance, the galley has a portable electric cooktop and a 1.2-cubic-foot built-in microwave. The refrigerator is 2-way (12v/110v) compressor driven for quick cooling results, and the stainless steel sink is a European design with glass cover and fold down faucet.
The Shastas of the '50s and '60s did not have televisions, but this Shasta does — a 19-inch LCD (HD ready) TV with an easy-release bracket for inside or outside viewing. It also has a DVD player and optional stereo with CD player and iPod docking station. The U-dinette with its retro-style cushions provides ample seating for watching TV, playing games and enjoying a meal. Another clever touch: the pedestal dinette table slides from front to rear to give people easier access around the dinette. For a good night's sleep, the dinette easily converts to a 60-inch by 80-inch queen bed.
The bathroom is a generous wet bath with a power vent and 6-gallon electric hot water heater.
Shasta Airflyte offers three different interior decors: Classic Red, Tangerine Dream and Ocean Spray. Cabinetry is gracefully curved to give the interior more eye appeal. The designers also made effective work of the lighting. For instance, the kitchen cabinet toe kick is lighted, and the overhead cabinets and ceiling feature flush-mount halogen lights.
The ceiling skylight lets in even more natural light and opens for ventilation. A retractable screen and nightshade on the skylight let you control how much light comes in. Also included is the Cool Cat™ heat pump for air conditioning and heat. It is located in the lower cabinet and ducted throughout the unit. This system eliminates the traditional roof air conditioner and enables a low (aerodynamic) overhead clearance of only 8 feet 4 inches.
Cabinets are Brazilian Cherry color with frosted acrylic sliding doors. The flooring is easy to clean and skid resistant Beauflor®, and the ceiling is lined with a vinyl soft touch material that is traditionally used in higher priced units. Then there is the chrome — plenty of chrome. Designer countertops with chrome edges, as well as the cabinet trim and hardware, make for a very appealing look.
The Shasta trailers of the '50s and '60s have a solid and loyal fan base. Now, Coachmen is offering those fans the Shasta travel trailer of their dreams in a package with modern conveniences. And, all of this comes at an affordable MSRP starting at $20,300.
Coachmen Industries, Inc. is one of America's leading manufacturers of recreational vehicles, systems-built homes and commercial buildings, with prominent subsidiaries in each industry. The Company's well-known RV brand names include COACHMEN, GEORGIE BOY™, SPORTSCOACH, ADRENALINE™ and VIKING.